I have a teenage son, and he is always looking for ways to make cash online.  While there are many legitemate opportunties out there for teens, some are also scams.  There is a lot of online scams out there and many of us have fallen for these scams on our quest to finding online business success.  One such scam is TeenAdvertisers.
If you want to find out what TeenAdvertisers is all about I recommend you to read this post.
I have been involved with sites very similar to Teenadvertisers so make sure you read this review so you don't make the mistake that I did!
TeenAdvertisers Review
Name

: TeenAdvertisers
Website: TeenAdvertisers.com
Owner: Unknown
Rating:

1

/5
What is TeenAdvertisers?
Teen Advertisers is a website where you are promised to earn thousands of dollars by simply sharing links with your friends.
Every click your link receives you get up to $15.
This website was specifically created for teens looking for an easy way to earn some extra cash.
But it looks too good to be true right?
They even claim you will make $500 today.
Is TeenAdvertisers a Scam or Legit?
After taking a closer look at this website, it was clear to me that it's nothing but a rehashed scam.
It's basically a cookie cutter website.
If you check out the following websites below you will realize the ridiculous similarity.
DutyScreen.com
Dollargrowing.com
PokeLazy.com
CashYahoo.com
RevenueBrust.com
Dollarzip.com
Believe it or not, there are literally hundreds and hundreds of other similar scams.
Here is another site called TeensEarnMoney.com
I invite you to watch this video to see how it's similar to TeensAdvertisers.

It seems like every day this scam releases websites with new names hoping to get more victims.
How Does the TeenAdvertisers Scam Work?
To get started you need to provide your email address to sign up
As soon as you sign up you won't find anything but an affiliate link
When I first registered on this website, I thought I'd need to complete some tasks
But all I was asked to do is to share the affiliate link that you can find in the dashboard
They promise you $15 for every click your link receives
That's complete BS, why would anyone pay you to click a link?
Normally companies pay you when someone buys something through your affiliate link
The $25 Bonus
As soon as you sign up on TeenAdvertisers and log in, you will see a $25 bonus added to your account.
I can assure you that $25 along with your earnings will stay forever in your TeenAdvertisers bank.  You will never be able to withdraw…since I mentioned withdrawing
$200 to Withdraw?
Yes, they even have a ridiculous cashout limit of $200.
This is specifically made to fool you into thinking that you can expect to earn money easily and fast!
Yes, you will make money fast with TeenAdvertisers, but the problem is you will never be able to withdraw it.
The Survey Scam!
This is exactly when you realize TeenAdvertisers is a complete scam.  When you finally reach that $200 you worked so hard on.
When you want to cash out you will be asked to fill out some ridiculous surveys!  The problem is these surveys ask for money.
You need to pay around $30 in order to receive your money.  How ridiculous is that?  Even if you pay, you won't get your earnings and you will be given another survey to complete.
How Does Teen Advertisers Make Money?
You are probably wondering how they make money since there is no fee to pay to sign up?
1) They Sell Your Personal Information
First thing first, they sell your personal information
Your email address and your name
Lots of people give out their email addresses to TeenAdvertisers. This one collects a huge list of emails and sells it out to other unethical internet marketers so they can promote products to you.
2) Their site has Ads
Another way TeenAdverters make money is through ads.
You have probably noticed some ads on their website.
Needless to say, the more people you refer to your link the more money they will make!
3) They Survey Scam
When you want to cash out, they give you surveys to complete and you need to pay to take those surveys
Yeah, that's another way they make money from you.
---
As you can see, they make huge money from naive teens looking for ways to earn money.
With TeenAdvertisers, you will waste both money and time if you get involved with them!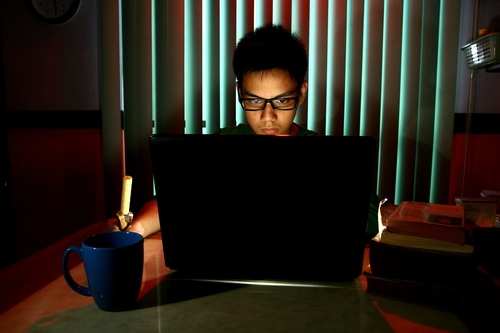 Avoid Teen Advertisers! Final Opinion
Unfortunately, I have nothing good to say about Teen Advertisers.  They created a website that is purely designed to scam people.  You saw how they make money through naive people looking for extra cash?
There are thousands of similar sites online.  My sincere advice to you is to avoid any site that promises easy earnings.  There is nothing such as making money easy online…You need to work hard to earn money that's the truth, and it shouldn't come as a complete shock!  Just like there is not a get rich quick formula for adults or moms, there is none for teenagers.
Please be sure you research any opportunity before your teenager get invole in it.
---
Your Turn!
Do you have any experiences with TeenAdvertisers?
Let us know what you think by leaving comments below!
---