Did you know can take online survey for money?
Paid surveys are becoming quite popular these days and why not? This is a great opportunity to earn a little cash or gift cards (same as cash in my book). There is a score of websites offering paid surveys for those who are looking to make a little cash. However, you must be careful because there is a lot of scams out there.
---
How Online Survey Work
In the world of business, an idea must be tested to determine how much of a success that idea will be with consumers. Let's face it, what kind of business would sell a product without knowing their consumers and what they would buy or not buy–an unsuccessful business. For example, which flavor of Pepsi would consumers drink, would they drink diet Pepsi, do they drink diet Pepsi and if not, why. As you can imagine, getting consumer's opinions can cost the company big dollars on focus groups and other means.
Companies are not turning to online marketing research to gather this information. This can be done from Online Survey sites. The websites may offer cash, gift cards, or other rewards.
The following list is a list of websites all the best opportunities where you find online surveys for money
---
Swagbucks is at the top of my list for a reason. I absolutely love Swagbucks; and have been around since 2008, and paid out millions of dollars to people like you and me–consumers. That makes Swagbucks the most popular rewards program on the market today. You can earn points when you shop at your favorite retailers, which include Amazon and Walmart where you can redeem points for gift cards. You can also get cash via PayPal. Good to know: Swagbucks is a Better Business Bureau (BBB) accredited business with an A+ rating, so as you can see they are a legitimate business. You can get what is called Swagbucks just by referring to the site, which is simple all you have to do is share your unique link on any Social Media platform or by inviting your friends and family by email.
Like Swagbucks, you can earn points that can be redeemed for PayPal payments or Amazon Giftcards. All you have to do here is to answer surveys, engage in the community, and participate in daily lotteries. What makes Toluna different is the fact that you can meet like-minded folks and form friendships, which is not uncommon. You can find nice supportive people at Toluna. If you don't believe me, take a look at the testimonials below.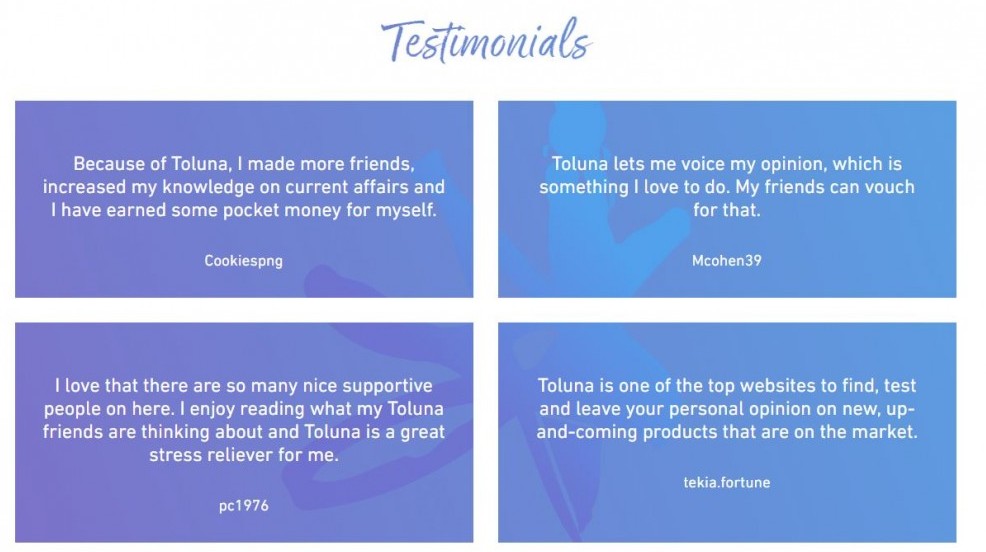 Survey Junkie has a community of over 10 million members who are making their voices heard. Survey Junkie is very straightforward, take surveys and get paid for doing so. You can also share products and services that are important to you. Like the others, you can earn rewards that can you receive via PayPal or eGiftcards, such as the very popular Amazon and Target. Here is the simple breakdown: Take Surveys, Earn Rewards, and Get Paid–how simple is that. All you have to do is:
Complete Profile for matching surveys
Take surveys online anywhere or anytime
Earn points when you complete surveys
Instantly redeem your points
With Inbox Dollars, you can earn cash for just doing your everyday online activities. You earn real cash not points–this is what I like bout Inbox Dollars. You can cash out after your account is up to $30.
How it works at Inbox Dollars:
Different Brands pay Inbox Dollars for consumer's opinions
Inbox Dollars recruit consumers/members

Paid Surveys
Paid Videos and TV
Redeem Free Food and Grocery Coupons
Paid ShoppingConsumer (us) do regular online activities

Earn Real Cash, not points
My Points is another site that you can share your opinions and earn rewards. You can join for free and get eGift cards for both taking polls and answering surveys. The site has been in existence since 1996. Here's how it works:
Sign up and introduce yourself by sharing about yourself
The next step is to get surveys
Earn your points by completing surveys sharing your honest opinions
Redeem your rewards for eGift cards from some popular brands
Ways to earn:
Shop
Surveys–as I mentioned
Videos
Mobile Apps
Dea;s
Games
MyGiftCardsPlus
As you can tell by the name Shopper's Voice is where you can join and save. This is another great website where you can take surveys providing your opinions about products and services that you actually shop for. You can actually get coupons, which is a little different from the others on my list. Every time you complete your survey, you have a chance to win $1,500. They also have a blog where they discuss every topic you can imagine. Such as dieting advice, how to find a bargain, etc. So, here is what you can get by joining Shopper's Voice:
Receive coupons
Samples and free stuff just for you
One Opinion is another website that you can earn fast rewards, and one of the few that you can contact via telephone. For me, this is great because sometimes you want to speak with someone, instead of sending emails. With One Opinion you will instantly get your rewards added to your account and you can claim your rewards by PayPal and Visa gift cards. How cool is that? As you can tell this is one of my favorites survey/research sites. There are three ways that you can access surveys:
You will receive survey invitations from One Opinion to the email address that you join with
You can also log into your account
You can also use a smartphone app available with mobile surveys

You won't make a full-time income from taking surveys, but as I mentioned, you can certainly get paid some cash or eGiftcards, which is just as great. You have the power, Don't just tell friends and families, use your power and tell companies, tell the consumer.
Thank you for reading my post. Feel free to drop by anytime. Also, please leave me a comment below to let readers know if you have experience with any of the above survey sites.
Kay