If working from the comfort of your home…in your pajamas is your dream, then like me you have explore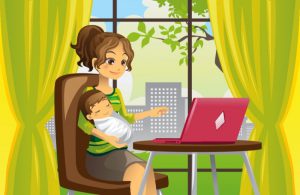 the internet looking for such opportunities—everyday.  Over the past decade work at home jobs have increased; as well as, the types of work at home jobs that are available.  Many more companies are now seeing the value of hiring home workers to handle certain aspects of their operations.
On a personal note, I have been researching legitimate work at home job opportunities since 2008.  Many women are opting to find work from home jobs, allowing them to spend more time with their children/family—ultimately creating a better work-life balance.  If you are a mom and have had the privilege of working from home…being home to see your children off to school, and greeting them after school, being able to attend school events/performances…there really is no better feeling.  Many companies, both large and small, have come to realize that a good work-life balance increases productivity.  As a result, more companies are now offering employees the opportunity to work remotely.
Although, there are many legitimate work at home jobs available, potential candidates must be aware that there is just as much scams on the internet.  Here you will find five legitimate work at home jobs perfect for moms.
My first legitimate work at home job was as a customer service representative.  As you can see customer service is first on my list.
Customer Service
What is it: This job is perfect for individuals with a quiet work environment, who has excellent communication and speaking skills.  This job is for anyone who is able to work with minimal supervision.  You can find both flexible full-time and part-time opportunities.  Some companies allow work at home agents to pick their own schedule–in 30 mins intervals.
Pay Rate:  Between $8 and $19 per hour (this depends on the company)
Where to get it:  When I started researching back in 2008, I could find a handful of companies.  Because companies are now aware of the value of having at home workers, you can now find a lot more.   You can find a work at home customer service job at anyone of these companies: Alpine Access, Liveops, Convergy's, Sitel, American Express, 1-800 Flowers, Sutherland Global, Alorica at home (formerly West at home), Amazon, and Arise…to name a few. These companies hire work at home agents either as an employee or as a contractor.  Please note that a contractor may be required to pay a small fee for a background check.  Additionally, you will be responsible for your own taxes.  This is a normal process for contractors.   The entire process is done online, so an email address is necessary for all communications.
Requirements: A PC or in some cases, a laptop, a landline, headsets, internet connection, a quiet working area/office, and a commitment of 10 hours per week (minimum)
Search Engine Evaluators
What is it:  This is one of the coolest jobs around.  Can you imagine getting paid to search the web?  Well,  that is exactly what a search engine evaluator does.  The search engine evaluator search queries to measure the usefulness of the web pages based on what the user intended to find.
Pay Rate:  Between $8 and $12 per hour
Where to get it:  The job is available to anyone and is offered all over the world.   Companies offering this job includes, Leapforce (strong competition here, took a couple of months for me to get response to my application here), Appen Butler Hill, and isoftstone (worldwide).
Requirements:  A PC, laptop,  high-speed internet connection, a commitment of 10-25 hours per week
Transcription
What is it:  There are three types of transcription jobs.  They are general transcription, medical transcription, and legal transcription.  People are needed to convert audio or video files into written text.
Pay Rate:  Per word rate (.5 cents to .7 cents); per audio hour (varies $50-$55 per audit hour.  Do keep in mind that one audio hour is approximately three hours of typing time for an experienced transcriptionist
Where to get it: Companies offering this job includes, TranscribeMe, REV, Athreon, E Transcription Solutions, and  We Sribe It (US Residents Only).
Requirements:  A PC, laptop, high-speed internet connection, a good headset, foot-pedal (optional), and the ability to transcribe audio/video
Social Medial Manager
What is it:  Why is this on my list?  Can you imagine getting paid just to spend time on facebook, twitter?  People spend hours each day sharing interesting things/finds, posting message and having conversations with each other.  Social Media platforms is the ideal choice for companies, bloggers, and celebrities to sell and increase popularity/brand awareness.
Pay Rate:  Between $15-$300 per hour or per project (depending on digital experience)
Where to get it:  These jobs can be at Appen Butler Hill, Flexjobs, Indeed, and other job boards. You can check out Indeed Jobs for more work at home opportunities.
Requirements:  A PC, laptop, high-speed internet connection
Online Tutor
What is it: Tutors are needed for every subject online.  Online tutors offer help in all subject areas offering convenience to students through Skype.
Pay Rate: Between $10 and $30 per hour
Where to get it:  This is perfect for those people who need flexibility or have training or expertise in a certain subject.  Some companies offering tutoring jobs includes, Sylvan Learning Center, Tutor.com, and Chegg Tutors.
Requirements:  A PC, laptop, high-speed internet connection, a video-cam, patience, and an area of expertise